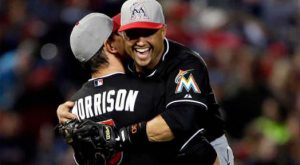 The Atlanta Braves win streak of 14 games came to an end Saturday on, of all things, a wild pitch in the ninth inning. Jordan Walden's pitch to Ed Lucas was too much for Braves' catcher Evan Gattis to handle, the ball got past him and Adeiny Hechavarria scored standing up to give the Miami Marlins a 1-0 victory.
Hechavarria, who leads the National League in triples with six, led off the ninth inning with a shot that bounced off of the bottom of the wall in left-center field. It was the game's only extra base hit. Hechavarria scored four pitches later on Walden's errant throw.
The Braves streak was the longest since the 2000 team won 15 in a row. The run was just four short of the franchise's best, 18 in a row by the then Boston Beaneaters. Miami broke a streak of its own as well, winning for the first time in seven games.
Nate Eovaldi, the Marlins starting pitcher, allowed a first inning single by Freddie Freeman and then promptly retired the final 14 batters that he faced. He struck out eight and walked three.
Miami couldn't muster much offense either as Braves rookie starter Alex Wood allowed just two hits, struck out seven, and walked one in six innings of work.
Atlanta played the bulk of the game with third baseman Chris Johnson, who was ejected in the first inning after striking out. Johnson, who leads the NL with a .338 batting average, took three straight pitches, all strikes, with runners on first and second to end the inning. Plate umpire Jim Joyce ejected Johnson after his tirade, which included throwing his bat and helmet.
The Braves' Justin Upton entered the game with a 13-game hitting streak. Upton finished 0-for-4, including a line out in the bottom of the ninth, to end the streak.