Bubba Watson Wins Second Masters Tournament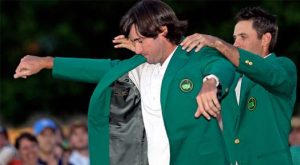 Entering Sunday's final round of the 2014 Masters Tournament, Bubba Watson was fine with the green jacket he won just two years ago in 2012. In typical Watson style, he attacked the course at Augusta National shooting a 3-under par 69 to capture his second Masters championship in three years.
Watson, the pride of Bagdad, Fla., didn't feel the pressure of the 20-year-old phenom Jordan Spieth, with whom he was tied entering the final day of play. Spieth hit two birdies early in Sunday's final round, but Watson didn't seem to care. He continued to match the young American stroke for stroke and then pulled away later in the round.
On the 15th hole, Watson displayed why he deserved the green jacket this year. He smacked a 6-iron directly through a hole in a tree, over water, and onto the green. It was a 190-yard stroke of beauty that allowed Watson to maintain par and hold on to his lead.
With the win, Watson now enters the company of 16 other men who have won the Masters more than once. Those legends include Tom Watson (no relation), Ben Hogan, and Tiger Woods, who sat this year out. In fact, Woods was the talk of the Masters Tournament until play began and the media moved on without him.
Watson also became just the seventh golfer in the history of the game whose first two majors victories were at the Masters. Two of the others were legends Ben Crenshaw and Arnold Palmer. That is some pretty good company.
Spieth ended up three strokes behind Watson, who finished 8-under par. Spieth wound up tied with Sweden's Jonas Blixt, both finishing at 5-under.
The early favorites, which included last year's champion Adam Scott, did not fare so well. Scott was never in contention and some of the bigger names in the tournament had a tough go. Rory McIroy was the last golfer to make the cut and Phil Mickelson didn't even make it to the weekend.
Most Recommended