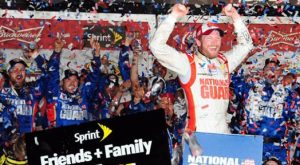 After a six-plus hour rain delay, Dale Earnhardt Jr. claimed the Daytona 500, NASCAR's traditional first race of the year. The victory was Earnhardt Jr.'s second Daytona win and it came a decade after his first.
The race began on schedule but heavy rains stopped the race after 38 laps. High winds and pouring rain kept racers off the track for six hours and 22 minutes before the race resumed. A tornado warning from the National Weather Service cleared out the grandstands as spectators left to seek shelter.
Those who made their way back and stayed definitely received their money's worth. Earnhardt Jr. would lead the race for 54 laps, most of the day, but would have to navigate through four accidents involving multiple cars to get to the checkered flag.
The last of those accidents was caused by Austin Dillon, who ironically was driving the No. 3 car of Earnhardt's father, with just seven laps to go. The crash would set up a two-lap race to the finish. Earnhardt Jr. got a great jump with Denny Hamlin right behind on the final lap, but the race would end when another accident occurred behind the leaders. The caution flag would come out and Earnhardt Jr. would claim victory.
Earnhardt's father, Dale Sr., was racing his famous No. 3 car at Daytona in 2001 when he was involved in an accident on the final lap. The accident claimed the life of one of racing's most revered personalities. The No. 3 had not been driven at Daytona until Sunday when Dillon, the pole-sitter, took command of the wheel.
Hamlin wound up finishing second with Brad Keselowski third. Jeff Gordon was fourth and last year's NASCAR Sprint Cup champion, Jimmie Johnson, was fourth. With the race in limbo for six hours, Fox Sports broadcast a replay of last year's race, which ended up confusing fans across the nation.