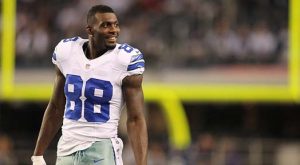 With the NFL news wrapped around Jonathan Martin, Richie Incognito, and a bullying scandal, it's nice to see a random act of kindness like the one Dez Bryant shared this week. While shopping at a local Wal-Mart, Bryant purchased PlayStation 4 consoles for several people.
Bryant, an avid gamer, went to the store to purchase the console, which retails for about $400, for himself. While waiting in line to pay, Bryant decided to pay for everyone who was waiting.
The PlayStation 4 was officially released on Thursday amid much hype. People all around the country were out in droves hoping to bring home the new gaming system just in time for the holidays. Those lucky enough to be in the Dallas area Wal-Mart where Bryant shopped on Thursday, got one paid for by the Dallas Cowboys' star.
Bryant's generosity immediately hit the social media waves as Twitter exploded with reports of what the Cowboys wide receiver had done. It's a move that will certainly win him some public relations points with fans in the area, as well as around the country.
The 24th pick in the 2010 NFL Draft, Bryant has had his share of troubles. While at Oklahoma State, Bryant was ruled ineligible for the entire 2009 season after violating an NCAA by-law by not disclosing his interaction with former NFL star, Deion Sanders.
As the 2012 season started, Bryant was charged with a misdemeanor count of domestic violence for allegedly striking his biological mother, Angela Bryant. She decided not to press charges and Bryant was not penalized by the league. He went on to have a breakout season with the Cowboys finishing with 92 receptions for 1,382 yards and 12 touchdowns.
Through 10 games this season, Bryant has 52 catches for 749 yards and eight touchdowns. Bryant gets a well-deserved break this week as the Cowboys have a bye. They will be back in action next week with a crucial NFC East match up with the New York Giants.