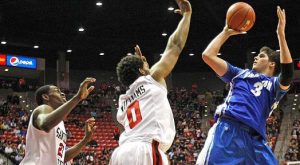 He is the best college basketball player in the country that is not a household name. Doug McDermott of Creighton scored 45 points in his final game at the CenturyLink Center in Omaha, Neb., as the Creighton Blue Jays defeated Providence, 88-73, Saturday night.
McDermott hit a 3-pointer at roughly the midway point of the second half to become just the eighth player in men's Division I basketball history to score 3,000 career points. His 45 on Saturday give him 3,011 and moved him past Oscar Robertson and Hersey Hawkins on the all-time career scoring list.
The last time the two teams met, Providence pulled the upset to give the Blue Jays one of their six losses this season. McDermott made sure that was not going to happen scoring 22 first-half points to give Creighton a 45-22 lead at the half. He also led the Blue Jays with seven rebounds.
Providence guard Bryce Cotton, who is second to McDermott in the Big East in scoring, scored 23 points to lead the Friars. The problem for Providence, though, was Cotton did not score until the second half and by then, it was too little too late.
Creighton, now 24-6 overall and 14-4 in the Big East, finishes second in the conference to Villanova (28-3, 16-2), a team that the Blue Jays beat twice. Creighton will be the No. 2 seed in the Big East tournament next week and is a lock for the upcoming NCAA tournament.
For McDermott, who averages 26.5 points per game this season, the 45 points was a career-high. After his 3-pointer that eclipsed the 3,000-point mark, he hugged his father, Greg, who happens to be his father. Austin Chatman was the only other Creighton player in double figures. He had 11 points and also grabbed seven rebounds.
LaDontae Henton added 21 points for Providence, now 20-11. Forward Kadeem Betts scored 13 points and pulled down a game-high 11