Dwight Howard Headed To Houston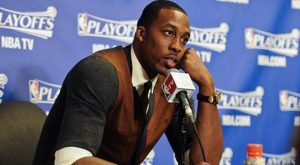 The Dwight Howard sweepstakes are over and the veteran center will write the next chapter of his career as a Houston Rocket. Sources have confirmed that the nine-year NBA vet will play in Houston next season but no terms of a contract have been released.
With the signing of point guard Chris Paul, Howard was the biggest name available as NBA free agency got underway on Monday. Howard spoke with his current team, the Los Angeles Lakers, as well as meeting with representatives from Golden State, Atlanta, Dallas, and, of course, Houston.
Howard was the first pick in the 2004 NBA Draft, selected by the Orlando Magic. Howard spent his first eight seasons in Orlando before being traded to Los Angeles in August of last year. The 6-foot-11 center had become frustrated with the Magic who he claimed would not obtain other marquee players in hopes of winning an NBA championship.
Despite having his worst offensive season since entering the league in 2004, Howard led the league in rebounding averaging 12.9 rebounds per game. He was named a third-team All-Star after five straight first-team honors. Howard has been named the league's Defensive Player of the Year three times, an achievement he did in consecutive seasons from 2009 through 2011. He is the only player in NBA history to do so.
The Rockets pulled out all the stops in courting Dwight Howard. Former Houston greats Clyde Drexler and Hakeem Olujawon were part of the contingent that the Rockets' brass brough in to help sell Howard on the idea. The addition of Howard immediately makes the playoff-contender Rockets a believable threat to contend with Miami for NBA dominance. Howard and the Rockets current star, James Harden, form a nice duo. What Howard wanted to make sure of was whether or not Houston would be working to bring in a third piece of the puzzle. Houston is currently pursuing Atlanta's Josh Smith.
Most Recommended