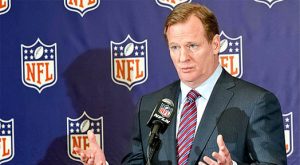 ESPN, the all-sports network created in the 1980s, just recently ended its affiliation with Frontline, a public-access television series that was putting together an investigative ESPN film about the way the National Football League handles head injuries. The NFL and league commissioner Roger Goodell voiced their displeasure at a luncheon featuring representatives from the league and the sports network.
Not that long ago in 2004, ESPN aired a special series about the way professional football players were treated. The show, Playmakers, did not even mention the words "National Football League," but appeared to take its story lines from the happenings of the league. The league complained to the chief executive of the Walt Disney Company, the company that owns ESPN, stating it did not like the way the league was represented. The network promptly shut it down. The NFL is denying any reports that it applied any influence on the network regarding its story on concussions and head injuries. The league met with officials from ESPN on Thursday and claimed that the meeting was called by the network.
ESPN said that it ended the deal with Frontline due to editorial differences. The network says that severing their relationship with the public-access group had nothing to do with the large television contract that it has with the NFL. ESPN has been building up the investigative reporting part of its operation over the past few years. One of its shows, Outside The Lines, has broken several major sports stories including the Biogenesis, performance-enhancing drug scandal in major league baseball and the behavior of the former men's basketball coach at Rutgers.
The network would be treading a thin line by reporting on one of its biggest money-makers. The concussion/head injury story is big right now since the NFL is currently being sued by a group of more than 200 former players for the way the league has handled issues involving concussion and head injuries. The deaths of former players like Junior Seau and Dave Duerson have brought this issue to the forefront in the sports world.