Former NFL RB Larry Johnson Pleads No Contest To Domestic Abuse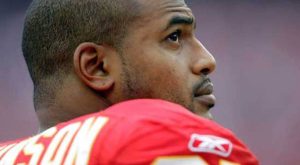 Larry Johnson, former Kansas City Chiefs running back and NFL record-holder for the most carries in a season, pled no contest to two counts of domestic abuse as part of an agreement he entered to avoid felony charges.
Johnson was accused of beating and choking his girlfriend and faced a felony assault charge. As part of the agreement, the former two-time Pro Bowler was found guilty of one count each of battery-domestic violence and assault.
It is not the first time that Johnson, the Chiefs first-round draft choice in 2003, has been accused of violence against women. In 2003, 2005, and 2008, Johnson was accused of some sort of aggressive behavior towards women. The 2003 incident involved Johnson waving a firearm at his then girlfriend.
As a result of this case, Johnson will be on probation for one year. He will attend mandatory counseling and perform 48 hours of community service. He will also pay a $345 fine.
Larry Johnson was a first-team All-American at Penn State as a senior in 2002 when he rushed for 2,159 yards and 29 touchdowns. He came into his own in the NFL in 2005 when he recorded nine consecutive 100-yard rushing games and finished the season with 1,750 yards. He followed that up with a 1,789-yard performance in 2006. That total came on 416 carries, which is the NFL record for carries in a season.
After a contract dispute and foot injury in 2007, Johnson's career took a turn for the worse. He gained 559 yards in '07 and then struggled to 874 more in '08. He wound up in head coach Todd Haley's doghouse in 2009 and was waived in November. He wound up with Cincinnati, then on to Washington in 2010, and eventually, the Dolphins in 2011. He was cut after training camp by Miami and has not played since.
Most Recommended