Tianling Guan Fourteen Year Old Talk of Masters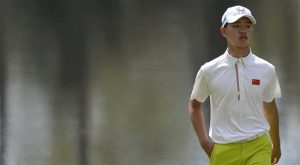 With all the focus on No. 1 ranked Tiger Woods, the slight 14-year-old Tianling Guan stole the show on the first day of the Masters finishing with a one-over par 73, just three strokes behind Woods.
Tianling Guan, 5-foot-8 and 140 pounds, bogeyed all five par-four holes and capped off his round with a birdie on No. 18 to shock the golf world. Rory McIlroy, one of the tournaments' other favorites, was impressed and commented that the young eighth-grader might play in 60 Masters Championships in his lifetime.
The youngest player ever in the Masters, Guan drives well but does not have the power yet of some of his colleagues. He makes up for that lack of power with driving accuracy and an admirable short game.
There will be tremendous pressure on Guan to turn pro before he completes high school regardless of where he winds up at the Masters. If his play continues, he could become the youngest player to ever make the cut at Augusta. Guan is also the first Chinese player with any kind of star potential and the golf marketing gurus know it. Golf is not a household sport in China which makes it a huge untapped market for the tours, sponsors and television.
For now, though, the reserved middle-schooler will continue playing golf and focusing on his homework. Guan spends at least 90 minutes a day studying and doing his homework. He says that math, English, and history are his favorite subjects.
Guan played his first round with Masters' veteran Ben Crenshaw who, like McIlroy, was impressed with the young golfers' play. "I'm telling you, he played like a veteran today," said Crenshaw. "Played a beautiful round of golf. He stays well within himself. He's very confident and, obviously, beautiful hands. His thought process never got rushed. Very patient. Very, very, very impressive."
Most Recommended