Grinnell College Basketball Player Jack Taylor Scores 100 Points…Again!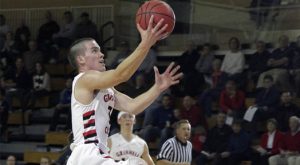 Jack Taylor, a 5-foot-10 guard for tiny Grinnell College, scored 109 points in his team's 173-123 victory over Crossroads College over the weekend. Surprisingly, this is not Taylor's first game of over 100 points.
Taylor, from Black River Falls, Wis., broke the NCAA record at any level for points scored in a game when he exploded for 138 points in a win over Faith Baptist Bible College last season.
Grinnell, an NCAA Division III school in Iowa, is known for its up-tempo offense which averages well over 100 points per game. Head coach David Arsenault routinely plays 12 to 15 players per game with each player playing approximately 10 to 15 minutes per game. The players stay fresh in order to play at such a frenetic pace. Every so often, Arsenault will allow a player who is hot to stay in the game for 25 to 35 minutes to take a crack at some individual scoring records.
Taylor, a junior, opened the season on Friday night with a 71-point outburst in a 144-99 win over Finlandia University. In Sunday's match-up with Crossroads, Taylor hit 24-of-48 3-pointers, 11-of-22 from inside the arc and made 15-of-17 free throws.
Taylor now owns the top two scoring performances in NCAA Division III basketball history. In third place is former Grinnell teammate Griffin Lentsch, who scored 89 points in a game during the 2012-13 season.
The top scoring performance at the Division I level remains the 100 points that Frank Selvy put up for Furman in a 1954 game against Newberry College. That same year, Clarence "Bevo" Francis of Rio Grande Community College scored 113 points against Hillsdale College and held the NCAA all-division scoring record until Taylor broke it last year.
Two games into this young season, Taylor now leads the nation in scoring. He is averaging 90 points per game.
Most Recommended