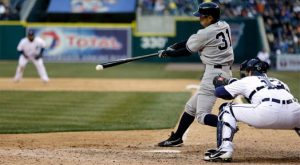 There are now three players in the history of professional baseball who have achieved the rare feat of having 4,000 career hits. On Wednesday, Ichiro Suzuki of the New York Yankees singled to left field off of Toronto's R.A. Dickey for the 4,000th base hit of his career.
Ichiro, of course, achieves the mark by including his 1,278 hits while playing professionally in Japan as a member of the Japanese Pacific League. He has played 13 seasons in Major League Baseball and has accumulated 2,722 career hits. He is now 59th on the career hit list, passing legendary Lou Gehrig.
The 10-time MLB All-Star still has a year left on his two-year, $13 million deal with the Yankees. He will turn 40 in October and there is speculation as to whether he can reach 3,000 hits in the majors.
Ichiro went 1-for-4 in the Yankees' 4-2 victory over the Blue Jays. When he reached first base on the single in the first inning, he was greeted by all of his Yankees' teammates who left the home dugout to celebrate with him.
Pete Rose is the all-time major league hits leader with 4,256 career hits. Legendary Ty Cobb finished his career with 4,189. Each player recorded his hit total entirely in the MLB. Ichiro knows that he will have an asterisk next to his name, but he is not looking to catch Rose. "It's not a goal that I have," he said through a translator.
With 34 more hits through the season, Ichiro will tie Richie Ashburn for second place all-time among great MLB hitters. If he gets those 34 hits, it will be Ichiro's 13th consecutive season of at least 150 hits. Since his first season in 2001, Ichiro has had 150 hits-plus each season. He also has the most hits of anyone since 2001. Albert Pujols is second with 2,347. Ichiro's teammate, Derek Jeter, is fourth with 2,300.
Ichiro was the American League MVP in his first major league season in 2001. He won 10 consecutive Gold Glove Awards from 2001 through 2010 and was twice the AL batting champion (2001, 2004)