JaMarcus Russell Has Glimmer Of Hope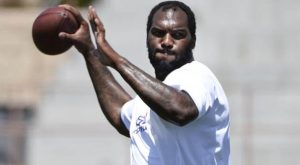 JaMarcus Russell, the first pick in the 2007 NFL Draft, considered one of the biggest flops in history, was offered a glimmer of hope in a recent tryout with the Chicago Bears. Russell, now 27 years old, was put through a workout by the Bears recently and, according to most experts, did very well. He now plays the waiting game.
The Bears also worked out quarterbacks Jordan Palmer and Trent Edwards. Chicago has its starter in Jay Cutler and backups Josh McCown and Matt Blanchard are on the roster and, most likely, the team will not carry four QBs during the season. From the beginning, the former LSU star, had issues with his weight, his desire, and his interest in football.
JaMarcus Russell ballooned closer to 300 pounds and never really figured out how to be a quarterback in the NFL. He held out until after the 2007 season started, and suffered through two rough seasons in Oakland before being released in 2010.
While many consider Russell to be the biggest NFL draft bust in the history of the game, he is hoping for another chance. His weight is down to 265, the same as when he was drafted in 2007. In his workout with the Bears, Russell showed what has always been his best quality – a big arm.
Russell has been working with Brian Martin, owner of TEST Football Academy, where JaMarcus Russell has been put to the test and, so far, is passing. He has lost over 50 pounds since February and Martin considers him to be a changed man. Martin also commented that he has worked with several NFL quarterbacks and Joe Flacco has the strongest arm he's seen yet and where JaMarcus is at right now he matches Flacco in strength and accuracy.
Even if JaMarcus Russell is not signed by the Bears, his performance at their workout may be enough to get some other NFL teams interested. The 6-foot-6, 265-pounder has two things that NFL teams love in a QB that cannot be taught – size and arm strength.
Most Recommended