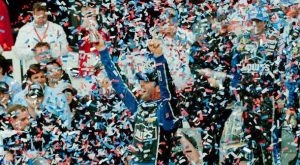 While Danica Patrick made history capturing the pole for "The Great American Race," Jimmie Johnson made his own history by making a late push and winning his second Daytona 500.
It was a little bit of redemption for Johnson who a year ago finished only one lap at Daytona due to a wreck that also pulled Patrick out of the race. Johnson was starting his 400th race and now starts his season with a huge win. "There is no other way to start a season than to win the Daytona 500," Johnson said.
Patrick, the first woman to ever win the pole at Daytona, also became the first woman to ever lead the race and was in it until the very end. Patrick trailed in third place as racers began the final lap but quickly faded and finished eighth.
Several of the Daytona racers were somewhat affected by the wreck that occurred during the Nationwide series race that took place on Saturday at Daytona International Speedway. More than two dozen fans were injured as a result of the crash and workers were on site until 2 a.m. repairing the damaged fence.
After the final restart, Johnson took off and pulled away to a sizable lead that he held the entire way through the final six laps. Dale Earnhardt, Jr., wound up second and Mark Martin finished in third place. Defending NASCAR champion Brad Keselowski was fourth and Ryan Newman came in fifth.
Disappointed with her finish, Patrick held her own and wound up leading for five laps total. When the race was on the line, though, Patrick was overtaken by drivers like Earnhardt as her inexperience in the NASCAR circuit showed.
It appeared that Matt Kenseth may have had a say in the final outcome as he led a race-high 86 laps, but suffered an engine problem and finished far out of the top ten, winding up 37th.