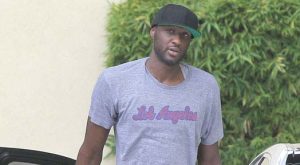 If Lamar Odom was missing, he has definitely been found. The 33-year-old former Los Angeles Laker, was arrested early Friday morning for operating a motor vehicle under the influence of alcohol and/or drugs.
Driving a white Mercedes , Odom was spotted by California police officers around in the wee hours of Friday morning on the 101 Freeway. He was driving recklessly, in a "serpentine manner at 50 mph" according to the incident report.
The report also said that Odom was visibly intoxicated and could not complete the normal array of sobriety tests. Odom refused a blood test and was subsequently booked by the Los Angeles Police Department.
According to the Los Angeles County Sheriff's Department, Odom posted the $15,000 bail and was released around 8:30 a.m. He will now appear in court on September 27.
Odom has had a rough go as of late. Within the past week, there have been some questions as to his whereabouts as well as his health. There is speculation that Odom is using addictive drugs, possibly crack cocaine.
The NBA free agent, who is married to reality TV star Khloe Kardashian, wants to continue playing professional basketball. Odom has spent the majority of his career in LA with both the Clippers and the Lakers. He spent the 2011-12 season in Dallas and averaging 5.9 points, 4.0 rebounds, and 1.7 assists per game and last year with the Clippers. He was hoping to reunite with the Clippers for the upcoming season, but while they did show some interest, they went ahead and signed Antawn Jamison just last week.
It will be interesting to see if the NBA gets involved. Odom has been suspended twice by the league for violation of its drug policy. The incidents were back in 2001. Both were related to Odom using marijuana, which he did admit to after being suspended the second time.