LeBron James Scores 61 Career High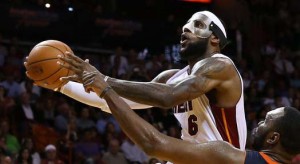 Miami Heat star LeBron James scores 61 from every conceivable spot on the floor hitting 22-of-33 shots, including eight three-pointers, on his way to 61 points to lead the Heat to a 124-107 victory over the Charlotte Bobcats.
It was the best career scores of 61 for Lebron James whose previous high was 56 when he was with the Cleveland Cavaliers in 2005. His total was also a Miami Heat franchise record. In 1995, Glen Rice scored 56 in a game with Orlando.
James had 24 points at the half and looked to be on his way to a 30- or 40-point night. That is, until he erupted for 25 points in the third quarter. Miami led by just six at the half, but with James' big quarter, blew the game open.
Chris Bosh added 15 points and seven rebounds for Miami and Toney Douglas was the only other Heat player in double figures with 10. Douglas started in place of Dwayne Wade who had the night off.
The win overshadowed a great performance by Charlotte center Al Jefferson. The 6-foot-10 Bobcat shot 18-of-24, scored 38 points, and pulled down 19 rebounds. Jefferson averages a double-double per game, 20.9 points and 10.5 rebounds.
It was the eighth straight win for Miami, which is now 43-14 and 24-4 at home. They are just two games behind Eastern Conference leaders Indiana, which has the best record in the NBA. Charlotte is still clinging to its playoff hopes sitting in the seventh spot in the East.
By giving up 61 to Lebron James, the Bobcats have the distinction of giving up the two highest scoring games in the league this year. Carmelo Anthony scored 62 against Charlotte in January. In fact, the last three 55-point-plus games in the league have been given up by Charlotte. Deron Williams scored 57 against the Bobcats in March of 2012.
Most Recommended