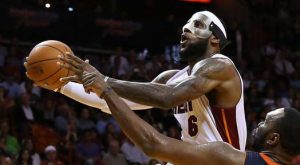 In their first game back after the All-Star break, the Miami Heat received a season-high 42 points from LeBron James in a 117-106 win over Dallas on Tuesday night. James also had nine rebounds and six assists.
James was virtually unstoppable shooting 16-of-23 from the floor, including hitting 4-of-8 from three-point range. He was the difference in the fourth quarter when Dallas had gone up by three, 95-92, with 7:47 to play in the game. James scored 10 points in a 14-0 Heat run that put the second-best team in the East in command of the game. King James scored on consecutive three-pointers, two free throws, and a dunk during the run.
Down by six at the half, Dallas battled back to take a one-point lead, 85-84, at the end of the third quarter. They were ahead most of the fourth quarter before the deciding run put the game out of reach.
Dallas forward and 12-time All-Star Dirk Nowitzki led the Mavs with 22 points. He missed out on a triple-double with nine rebounds and seven assists. Vince Carter played 27 minutes coming off the bench and added 15 points and seven rebounds.
James got help from Chris Bosh, who also shot well (8-of-12) and scored 22 points. Chris Andersen chipped in with 18 points and Mario Chalmers had 10 and dished out nine assists. After missing three games with a foot injury, Dwayne Wade returned to the Heat lineup and scored 13 points and had seven assists.
The 42 points by James makes it three games in a row where he has scored at least 35. He has four of the past five NBA MVP awards. This Thursday, he will face one of the favorites to the win the award this year – Kevin Durant. Miami travels to Oklahoma City to take on Thunder. Durant is the league's leading scorer averaging 31.5 points per game.