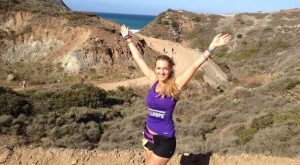 In memory of her father and in an effort to raise money in the fight to cure pancreatic cancer, Julie Weiss, the "Marathon Goddess," recently completed her 52nd marathon in the past 52 weeks.
How did the Marathon Goddess do it?
Weiss, 42, finished the Los Angeles Marathon on March 17th completing a full year of Sunday 26.2-mile races. The L.A. native raised over $179,000 for the Pancreatic Cancer Action Network in their quest to find a cure for the deadly disease.
In 2008, Weiss ran her first marathon and was hooked immediately. She hired a marathon trainer, David Levine, who would eventually become her fiance. After 19 attempts, Weiss finally qualified for the prestigious Boston Marathon in 2011. Her father would pass just one week before she would run in Boston. It was then that she realized she could do something special.
How the 52 marathons in 52 weeks journey began
An accountant by day, Weiss began her 52-week journey last March running in the Rome Marathon. She would continue to run each and every week until her final jaunt through Los Angeles this March. Her travel schedule was oftentimes more difficult than the actual races.
Each and every Friday or Saturday, Weiss would catch a flight to her next race. Her toughest race was the Leadville Trail Marathon in Colorado. The race is run through the Rocky Mountains with a peak elevation of 13,185 feet making it even more difficult on runners. Weiss also ran in the Extraterrestrial Full Moon Midnight Marathon, which yes, begins at midnight and the course takes runners past the mysterious Area 51.
Weiss' attempt at 52-for-52 caught a snag when Superstorm Sandy ripped through New York and New Jersey cancelling the New York Marathon. She was already on her way to New York when she learned of the cancellation. Within hours, Weiss found another race, booked another flight, and was back on her way to 52-for-52.
Julie Weiss and her continued goal to fight pancreatic cancer
The Marathon Goddess is now looking forward to raising $1 million for pancreatic cancer, although she will not be running 52 marathons in a year again. Weiss next race will be the Comrades Marathon in South Africa. It is a 54-mile ultra-marathon known to be one of the world's most punishing races.