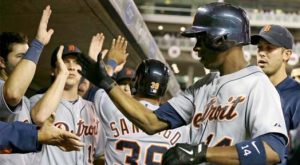 Very quietly, a pitcher other than Justin Verlander has come to the forefront in the Detroit Tigers' race for another American League Central Division title. Max Scherzer, pitching in the shadow of 2011 AL Cy Young and MVP winner Verland, has started the season 10-0 leading the Tigers to a 5-1 win over Baltimore on Monday.
Max Scherzer picked up his tenth win by striking out 10 and giving up just one run in six innings of work. He and the Tigers have started their season at 10 - 0, a feat that no pitcher has done since 1997 when Roger Clemens and the Toranto Jays started at 11-0. He is also the first to have at least six strikeouts in each of his first 14 starts since Pedro Martinez did it in 2001 with Boston.
Tigers' slugger Miguel Cabrera hit a two-run homer, his 19th of the season, after Austin Jackson led off the game with a single. Baltimore's only run came in the second inning when Chris Davis hit his 24th home run, which puts him on top of the home run leaders in the MLB this year. With the Orioles trailing by just two in the fifth, Scherzer struck Davis out with the bases loaded.
Max Scherzer begins 2013 on the heels of his best season in the majors a year ago. The 6-foot-3 right-hander won a career high 16 games and his 231 strikeouts were second in the AL to Verlander's 239. His strikeout rate of 11.1 per nine innings was tops in the league.
It was the fifth time this season that Max Scherzer has struck out at least 10 batters. Scherzer's performance is the best start in Tigers' history since George Mullin started 11-0 way back in 1909. Scherzer bettered his ERA down to 3.08 for the season. The win moves the Tigers to 39-29 and gives them a five-game lead over second-place Kansas City.
The Tigers continue the series with the Orioles before hosting a weekend series with the Boston Red Sox, a potential AL pennant match-up.