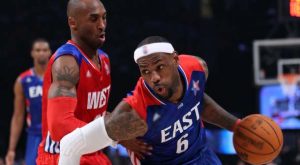 For the third consecutive year, the West defeated the East in the NBA All-Star game, once again led by Kevin Durant and game MVP Chris Paul, who had 20 points and 15 assists. Durant scored 30 points to become the only player in the history of the NBA to score 30 or more points in successive All-Star games. Durant had 36 in last year and won MVP honors.
The West led 69-65 at the half as Durant, Paul, and Blake Griffin of the Los Angeles Clippers, who finished with 19 points, were just too much for the East. LeBron James, who hasn't had problems shooting the ball as of late, managed to shoot just 7 of 18 and finished with 19 points. It was the first time in eight All-Star games that King James failed to score at least 20 points.
Kobe Bryant, playing in his 15th All-Star game, blocked two of James' shots in the final minutes and bottled up the Heat star for most of the game. Bryant and the Boston Celtics' Kevin Garnett, also playing in his 15th All-Star game, are now second behind only Kareem Abdul-Jabbar in All-Star appearances. Bryant scored just nine points but shot 4-of-9 and added eight assists.
The East managed to keep the game close but could never seem to pull ahead. Carmelo Anthony of the New York Knicks led the East with 26 points and 12 rebounds. James' Miami teammate Dwayne Wade scored 21 points and had seven assists while Chris Bosh, also of the Heat, managed just six points and two rebounds in 23 minutes of play.
Besides Durant, Paul, and Griffin, the West also had three more players in double figures. James Harden scored 15 points, Russell Westbrook had 14, and Tony Parker added 13. The East got 17 points off the bench from Indiana's Paul George and 10 more from Luol Deng. Cleveland's Kyrie Irving, the sixth-youngest player to be selected to play in the All-Star game, finished with 15 points and also had four assists.