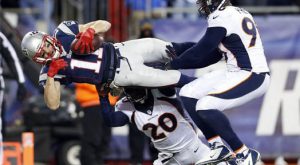 It wasn't pretty, but New England Patriots QB Tom Brady did just enough to give the Patriots a 13-10 victory over the New York Jets in one of the more sloppy NFL games in recent history.
The Patriots, playing without several key players on offense, got just enough offense early in the game to secure the win. With wide receiver Danny Amendola and tight end Rob Gronkowski out, Brady turned to newcomer Aaron Dobson on the game's first series. Brady connected with Dobson on a 39-yard TD pass less than three minutes into the game.
Later in the quarter, Brady led New England on another scoring drive resulting in a 21-yard Stephen Gostkowski field goal to give the Patriots a 10-0 lead. The Jets would get on the board with a 37-yard Nick Folk field goal and Gostkowski would connect on another, this one from 30 yards out, to set the halftime score at 13-3.
Then the rains came. The second half was played in a downpour and neither team could generate much offense. New England would actually wind up with more punts than first downs. The Patriots punted on 11 of their 16 possessions in the game and managed just nine first downs.
Brady, the 14-year NFL veteran, finished the game 19-of-39 for 185 yards and the touchdown to Dobson. Other than their opening drive, the Patriots managed just one drive that went farther than 22 yards. They gained just 232 yards for the game, 81 of those on the game's opening series.
New York rookie QB Geno Smith completed just 15-of-35 passes for 214 yards. He threw three interceptions all of which came in the fourth quarter. He was also sacked four times.
Smith did lead the Jets to a third quarter touchdown which pulled New York to within three. Bilal Powell scored on a three-yard run with just over five minutes remaining in the quarter. The three Smith interceptions in the fourth quarter sealed the victory for New England.