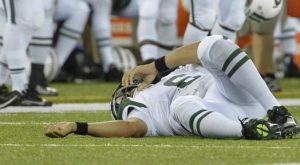 In a preseason battle of New York, the Jets one-upped the Giants with a 24-21 overtime victory at MetLife Stadium in East Rutherford, New Jersey. The problem for the Jets, though, is they still have not figured out who will be the opening day starter at quarterback. Rookie Geno Smith struggled and Mark Sanchez went down with a shoulder injury in the fourth quarter.
Giving Smith the opportunity to start their third preseason game, the Jets were probably thinking that the West Virginia product would seize the moment and make his claim for the starting QB job. That didn't happen.
Smith completed 16-of-30 passes for 199 yards and threw a 22-yard TD pass to Ben Obomanu. The touchdown gave the Jets an early 7-0 lead over the Giants. However, later in the game, the young signal-caller avoided the Giants' rush in his own end zone and stepped out of the end zone giving up a safety.
Head coach Tom Coughlin's squad went up 15-14 as a result of the safety and led into the fourth quarter before Smith gave way to Sanchez. It didn't go so well for last year's Jets' starter either. He fumbled a shotgun snap in his first series on the field.
Sanchez was hit by Marvin Austin in the fourth quarter and left the game right after. He did not return and was seen being taken to the locker room or an x-ray. Sanchez finished his night 5-of-6 for 72 yards. He will have an MRI to determine the extent of his injury.
Jets' head coach Rex Ryan made the decision to put Sanchez in the game. Many will wonder if that was such a good decision. In a post-game interview, Ryan was asked if the decision was irresponsible. Ryan responded about how important the quarterback competition was. "If it wasn't important, then I wouldn't have put him in there," said Ryan.
Matt Simms, son of former Giants' great Phil Simms, finished the game for the Jets. Simms went 6-of-10 for 120 yards. He connected with Ryan Spadola on a 70-yard pass play that set up the game-winning field goal in overtime.