NFL May Have First Female Official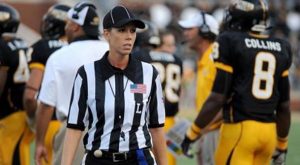 A former college basketball player and now mother of three, Sarah Thomas could become the National Football League's first female official.
Thomas is currently training at the New Orleans Saints training camp in Metairie, Louisiana, this week. She is a member of the NFL's Officiating Development Program and is a finalist to become a full-fledged NFL official. Thomas will work the Saints' scrimmage this Saturday.
"I don't feel a weight on my shoulders. It's exciting," Thomas said. "I didn't set out to be the first or a pioneer, but I will embrace it, if that does happen."
The now 40-year-old Thomas began officiating high school football games at the age of 23. She continued working the sidelines ever since and has been officiating Conference USA games since 2007.
Thomas has actually participated in the Saints' camps from 2006 through 2009. Saints coach Sean Payton said, "She's been a part of a crew that's worked our training camp every year, and she's done a great job."
She played college basketball at the University of Mobile in Alabama. Off the field, she is a pharmaceutical representative and is mom to two boys, ages 12 and 9, and she is just getting back into top shape after giving birth to a baby girl seven months ago.
The new mom, who lives near Jackson, Miss., was the first female to officiate a Division 1-A high school football game in Mississippi back in 1996. In her time since, she has worked the Senior Bowl twice, a college bowl game, and worked games in the United Football League.
Should she make it through the Development Program, Thomas will be in line to get one of the next full-time openings on an NFL officiating crew. That would likely happen prior to the 2014 season.
Most Recommended