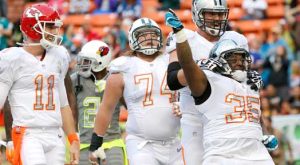 In an effort to improve its ailing postseason all-star game, the NFL decided to do away with the old AFC vs. NFC format and try something new. It looks like it was a success as Team Rice defeated Team Sanders 22-21 in the lowest scoring NFL Pro Bowl in 15 years.
Kansas City QB Alex Smith hit DeMarco Murray of Dallas with a 20-yard TD pass with just 41 seconds remaining in the game. Down 21-20, Team Rice decided to go for two and Smith handed the ball to FB Mike Tolbert who took the ball to the end zone for the victory.
With the new format, players were selected in a draft by two of the league's former greats – Hall of Fame wide receiver Jerry Rice and defensive back Deion Sanders. The teams were chosen earlier in the week. The two teams traveled to Hawaii, practiced and played the game in beautiful Aloha Stadium in Honolulu.
The game was much more competitive than in the past several years. Teammates even hit teammates. Kansas City LB Derrick Johnson put a big hit on RB Jamaal Charles in the first half. Johnson would finish with nine tackles, eight solo, and as a result was the game's defensive MVP.
The team's traded scoring throughout the game. Andrew Luck his Philadelphia WR DeSean Jackson with a 36-yard TD to give Team Sanders the early 7-0 lead. New Orleans teammates Drew Brees and Jimmy Graham hooked up on an eight-yard scoring toss to even the score at 7-7 in the second quarter.
Smith wound up 9-for-22 for 116 yards and the one touchdown. Nick Foles, who put Team Sanders back in the lead at 21-14 with a TD pass to Jordan Campbell with just 4:41 to play, was 7-for-10 for 89 yards and was named the game's offensive MVP. He was the only one of the six QBs to play that did not throw an interception.
The new format Pro Bowl was the first since the 1983 game that was decided by one point. The NFC defeated the AFC 20-19 that year.