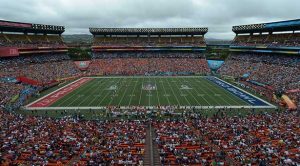 The NFL and the NFL Players Association have agreed to changes to the league's end of season all-star game, the NFL Pro Bowl. No longer will the game feature the AFC versus the NFC as teams now will be selected by a draft.
With the players conference not being a factor in the team selection, the two top who recieve the most votes will be named captains of the two teams. They along with the help by Hall of Famers Jerry Rice and Deion Sanders and two NFL.com fantasy football champions to help pick their teams. Each team will choose 43 players.
There will be no need to select a kick return specialist since one of the other new features of the game will be the elimination of kickoffs. The coin toss winner will start the game from their 25-yard line. The ball will be placed there after scoring plays as well. Since the kick return spot was eliminated from the Pro Bowl roster, an additional defensive back spot was added.
Other changes include defenses being permitted to use press coverage and Cover 2. In previous years, defenses were only allowed to play man coverage. A two-minute warning will be added to the first and third quarters. Possession will change at the end of each quarter. The end of each quarter, then, becomes an end-of-half or end-of-game situation.
Most of the remaining changes have to do with the play clock operation. For example, during the final two minutes of each quarter if the offense must gain 1 yard or the clock will go dead. This rule is designed to give incentive for the offense to continue to gain yards towards the end of each period instead of draining the clock out.
Although the Pro Bowl continues to achieve decent TV ratings, there are many, players and fans alike, who believe the game needs some spice. The changes will definitely create some talk and, hopefully, make the game even better.
The first Pro Bowl draft will be held next January 22. The 2014 Pro Bowl will be played on January 26 at Aloha Stadium in Honolulu.