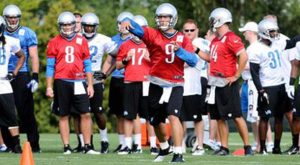 All 32 NFL teams have reported to preseason training camp and many are into full-contact workouts. Training camp is the time for newly signed free agents and draft picks to make their mark and earn roster spots. It's also a time to find a quarterback who can guide a franchise to the postseason. The 2014 preseason will be marked by QB battles in New York, Tampa Bay, and Cleveland, where rookie Johnny Manziel may be the most watched NFL rookie in a long time.
The highly hyped Manziel entered Browns training camp as the future savior of the franchise, a player who Cleveland fans are hoping can take the team into a postseason game for the first time since 2002. The former Heisman Trophy winner will battle Brian Hoyer who went 3-0 last year as the Browns starter at QB. New head coach Mike Pettine is cautiously optimistic about Manziel and hopes his off-the-field antics will not deter him from becoming the Browns' starter.
The New York Jets will finally have a season where the quarterback position is no joke. Last year's starter, Geno Smith, welcomes offseason free agent signee Michael Vick. While Smith is the incumbent and Vick would be content as his mentor, don't count out the competitor in the former Eagles' QB. Should Smith falter, the Jets have a capable replacement in Vick. Besides, Smith-Vick has a much better ring to it.
Tampa Bay, like Cleveland, has a new head coach in former Bears mentor Lovie Smith. They also have a preseason QB battle going on, even if it appears that there isn't. Mike Glennon, a rookie last season, took over as the starter in week 4 and completed 59 percent of his passes for 2,608 yards and 19 touchdowns. The Bucs still consider Glennon the QB of the future and, in the offseason brought in Josh McCown, who played for Smith in Chicago. McCown's $10 million contract might have some say in who starts, but should he struggle, Glennon has what it takes to be a top-notch NFL QB.
All 32 teams have practices scheduled for the entire week. The Buffalo Bills and New York Giants will kick off the preseason in the annual Hall of Fame game on Sunday, August 3, as part of the weekend's Hall of Fame festivities.