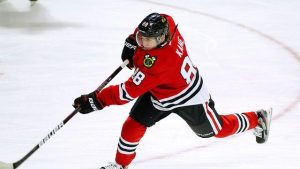 Very quietly, the Chicago Blackhawks have emerged as not only the best sports team in the Windy City, but also the best team in the NHL. The re-emergence of the Chicago Bulls aside, many fans are still reeling over the lockout that has cut short the 2012-13 season short. And through all of it, the Blackhawks now own the best start in NHL history.
Chicago head coach Joel Quenneville has led the Blackhawks to a 14-0-3 start, the best ever in league history, and their 2-1 victory over San Jose on Friday night was the Hawks fourth straight win in regulation. Chicago does have two shootout losses and has scored to give them at least one point in each of their first 17 games.
The Blackhawks' start eclipses the old record of the 2006-07 Anaheim Ducks who earned at least a point in their first 16 games. The Ducks had bested the '84-'85 Edmonton Oilers (15 games) who had surpassed the '43-'44 Canadiens (14 games). All three of those teams went on to the Stanley Cup. It may be a good omen for Chicago and its captain, Jonathan Toews, who led the team to the 2010 championship.
Chicago is long on talent and with goalie Corey Crawford, currently fourth in the NHL in goals against average at 1.65, another trip to the finals is definitely in the cards. Add in Crawford's backup, Ray Emery, currently 7-0, and the Blackhawk defense is one of, if the not the, best in the NHL. Right wing Patrick Kane is fourth in the NHL with 23 points, just two behind leaders Thomas Vanek (Buffalo) and Sidney Crosby (Pittsburgh). Toews, with 15 points, and veteran Marian Hossa with 14, give the Blackhawks ample scorers.
With just about a third of the strike-shortened season complete, the Blackhawks have the league's best point total, 31, and are six points ahead of the closest competition, Anaheim, in the Western Conference race. The surprising Montreal Canadiens are tied with Crosby's Penguins with 24 points each to lead the Eastern Conference.