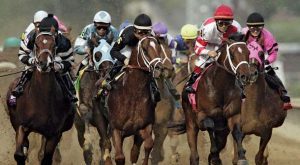 The most exciting two minutes in sports culminates the two-week long Kentucky Derby Festival this Saturday and Orb, a colt trained by veteran Shug McGaughey, is the favorite to win the Run for the Roses.
Orb, a 7-2 favorite, will start in the No. 16 post, which has a pretty fair history in the Derby. Four horses have won from the position, including Animal Kingdom who took the title just two years ago. McGaughey, at 62 years of age, has never won the Kentucky Derby in his six tries.
Competition for the crown will come from Verrazano who is unbeaten so far and from Goldencents, who is trained by Doug O'Neill. Verrazano, a 4-1 favorite, has not lost in four starts and is trained by Todd Pletcher, who has three horses in the pre-Derby top ten. O'Neill trained last year's winner, I'll Have Another, which had to be retired after its Derby win due to a leg injury. Goldencents, co-owned by Louisville head basketball coach Rick Pitino, is a 5-1 third choice and will start from the No. 8 post.
Orb, though, is on a four-race win streak and has looked impressive in training. The horse won the Florida Derby in its last start and clocked four furlongs (half of a mile) in 47.80 seconds in a training run on Monday.
The Kentucky Derby is the first leg of the U.S. Triple Crown. The Preakness Stakes and the Belmont Stakes are the others. A horse must win all three races to claim the Triple Crown. The last horse to do so was Affirmed, ridden by jockey Steve Cauthen, back in 1978.
Should the entire field of 20 horses make the start for Saturday's race, the purse will be $2,199,800. The winner will receive $1,439,800. Starting time from Churchill Downs in Louisville is 6:24 p.m.