Marcus Mariota Takes Home Heisman Trophy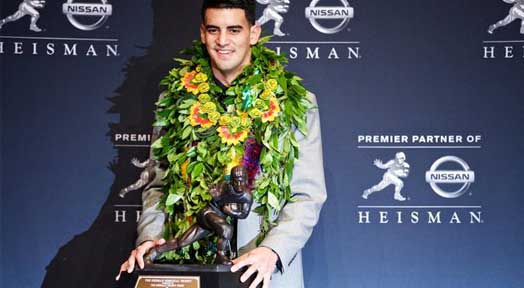 Like many of Oregon's games this season, Ducks quarterback Marcus Mariota won the 2014 Heisman Trophy in a rout. Mariota's 2,534 points were more than double what second-place Melvin Gordon (1,250) received.
The Oregon junior, who likely will enter the NFL Draft and forgo his senior season, commanded a majority of the first-place votes, 788 of the 894 cast to be exact. It was eerily similar to the Ducks' season where Mariota led the Oregon offense to an average of 46.3 points per game and the nation's No. 2 team stomped its competition.
Mariota had one of the great seasons of all-time. He led his team to a Pac-12 championship and a berth in the first-ever College Football Playoff. On the way, he passed for 3,783 and 38 touchdowns and ran for 669 more and 14 more scores. He also caught a touchdown pass and, in his 372 pass attempts during the season, Mariota threw just two interceptions.
With the win, Marcus Mariota becomes the first Oregon player to ever win the award. Prior to this season, the only player from the Pacific Northwest to win the Heisman was Terry Baker, a quarterback from Oregon State who won the award in 1962. Mariota also becomes the first player ever from the state of Hawaii to claim college football's most prestigious award.
Mariota's win sets up a rarity in the history of college football. When his Ducks face Florida State in the Rose Bowl on New Year's Day, it will mark just the third time ever that two Heisman Trophy winners will play each other. Last year's winner, Jameis Winston, is the Seminoles quarterback.
Florida's Tim Tebow faced off against Oklahoma's Sam Bradford and Matt Leinart of USC battled Jason White of Oklahoma in the other two meetings of Heisman winners.
Mariota could cap the season off with a national championship. Should the Ducks beat the Seminoles in the Rose Bowl, one of the two national semifinals, they would face the winner of Alabama-Ohio State for the national title on Jan. 12.
Most Recommended