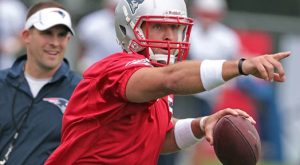 Tim Tebow, former Heisman Trophy winner and first-round draft pick, has found a home signing with the New England Patriots late Monday. Tebow's signing is just in time for him to participate in the Pats mandatory minicamp which begins Tuesday.
Contrary to what had been reported several months ago, Patriots head coach Bill Belichick has been interested in Tebow for some time. The three-time Super Bowl winning coach has always liked tough, smart, and versatile football players. He believes that Tim Tebow has something to offer to the organization.
The move will reunite Tebow with Josh McDaniels, current Patriots offensive coordinator and former Denver Broncos head coach, who, while in Denver, traded to get Tebow in the first round of the 2010 NFL draft. It was Tebow who would lead the Broncos to a playoff win that year in overtime over Pittsburgh. Ironically, Tebow's last NFL start came in a blowout playoff loss to the Patriots following the 2011 season.
Tim Tebow is a media sensation and Belichick may have been waiting for some of the hype to die down after the former University of Florida star was released by the New York Jets. Belichick likes to limit his players' contact with the media and will surely do so now signing one of the league's most polarizing players.
With future Hall of Famer Tom Brady firmly entrenched at the QB position, Tim Tebow will battle Ryan Mallett for the backup role. Tebow, who does not want to switch positions, may be used at some other positions, especially if TE Rob Gronkowski is late returning from a fourth surgery on a broken forearm.
Tim Tebow has been criticized ever since he entered the league for his unorthodox throwing motion. He has worked to correct it, but many across the league still do not believe he is an NFL quarterback. Belichick is willing to gamble that Tebow can be an asset in New England. The Pats boss has reached before. Wide receivers Wes Welker and Randy Moss, as well as running back Danny Woodhead, were all cast offs that most believed couldn't contribute.