Performance at NFL Combine Is Key For Manti Te'O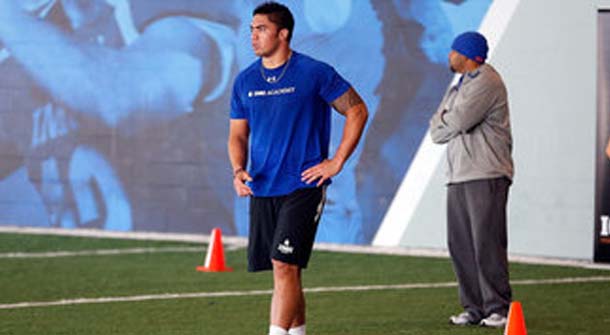 With a lackluster performance in the BCS national championship game and a bizarre off-season hoax story still looming, Notre Dame linebacker Manti Te'O has the chance to erase all the bad memories and start over. He'll get the opportunity at this weekend's NFL Combine in Indianapolis.
Manti Te'O NFL Combine
Te'O and his Fighting Irish teammates were blown out by national champion Alabama back in January and shortly thereafter the story about his supposedly dead girlfriend, Lennay Kekua, was found to be a hoax. Te'O was then forced to defend himself as a victim of a prank gone bad and the negative attention has most certainly affected his draft stock. Te'O, a finalist for the Heisman Trophy last season, was a lock to be a first-round pick, but that seems murky at best now.
NFL Combine Expectations
The combine provides Te'O a chance to clear scouts' minds of all things past and focus on what really counts – the former Notre Dame star can help win football games. At 6-foot-2 and 255 pounds, Te'O was a beast for the Irish recording 212 tackles, 34 for loss, while at Notre Dame.
Besides being a finalist for the Heisman, Te'O won the Bednarik Award as the nation's top defensive player. He will have to perform admirably in the physical tests – 40-yard dash, bench press, vertical jump, etc. – but where he may really have to shine is in the mental tests. Te'O will be asked about the hoax and will not be able to shy away from it during the combine. His responses will go a long way in determining whether or not he will end up as a first-round draft choice.
Top performance factor at NFL Combine
When it comes down to it, though, a fast 40-yard dash will more than likely solidify in scouts' minds that Te'O is worthy of a first-round pick. All linebackers invited to the combine will arrive Friday with the physical testing to begin Sunday with the bench press. Te'O will get his crack at the 40-yard dash on Monday.
Most Recommended