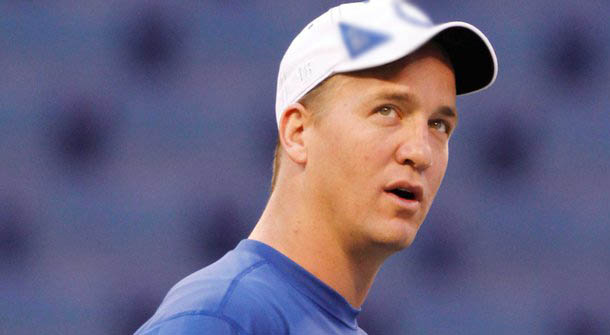 What are your reactions to Peyton Manning being released from the Indianapolis Colts on March 7th? It was an emotional press conference with owner Jim Irsay. The Colts want to rebuild and just weren't prepared to do it with Manning at the contract he would have been owed had he stayed. They have the number one overall pick and seems likely they will select Andrew Luck who appears to be a sure-fire can't miss player maybe the next Peyton.
Peyton Manning leaves the Indianappolis Colts
Where will Peyton Manning wind up? I was fortunate enough to watch Peyton up close the two years the Tennessee Volunteers rolled into Gainesville to play the then-Steve-Spurrier-coached Gators. We had his number; he was never able to beat UF. One year in Atlanta for the SEC Championship game my dad and I ran into Archie and Cooper Manning, Peyton's dad and older brother and there was speculation on whether Peyton was going to return for his senior season. They knew we were Gators as my dad had known Archie over the years. We asked, "So, what is Peyton going to do?" Archie answered, "He is transferring to Florida!" We all got a nice laugh out of that response.
Again we are left to wonder what team will get Manning.
The Manning sweepstakes has begun. Former NFL Quarterback, Trent Dilfer was quoted in USA TODAY as saying, "Whoever gets him will be in the Super Bowl within three years." I know I would take the chance on Peyton and that his neck and health will be fine. The team should let him run the offense he knows and call the plays at the line of scrimmage. It will be a fun time as the teams jockey for his services. Next season is already shaping up to be an intriguing one. Former Colts coach Tony Dungy was hoping he could stay in Indy but he said, "It's tough, but as rough as it is, we've seen it before. We saw Joe Montana, Ronnie Lott, and Jerry Rice all leave the 49ers. We saw Emmitt Smith leave the Cowboys. That's life in the NFL."