Professional Athletes And Murder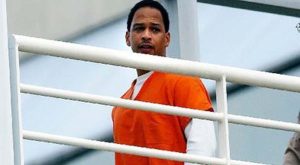 Aaron Hernandez, former tight end with the New England Patriots is the latest to be added to a much-too-long list of professional athletes and murder who have been charged with or linked with the unthinkable. The former Florida star, who was drafted in 2010, was charged earlier this week with first-degree murder in the death of Odin Lloyd, a former friend who was said to be dating a friend of Hernandez's fiancee.
But Hernandez, released by the Patriots just after his arrest, is not the only professional athlete to be charged with murder, homicide, or manslaughter. Here's a look at a few others.
Earlier this year, South African track athlete Oscar Pistorius was charged with premeditated murder in the shooting of his girlfriend. Pistorius, who gained fame as the first Paralympics athlete to compete in the Olympics, says he mistook his girlfriend for an intruder. He has a hearing on August 19.
In January 2001 Rae Carruth of the Carolina Panthers was charged with first-degree murder and conspiracy to commit murder in the shooting death of his girlfriend who was pregnant with his child. He was later acquitted on the first-degree murder charge, but he was found guilty of conspiracy. He is currently serving an 18-year sentence.
In a sad twist of fate in December 2012 Josh Brent, a defensive tackle with the Dallas Cowboys, was indicted on charges of intoxication manslaughter in connection with the death of his Cowboys teammate Jerry Brown. Brent crashed while driving and Brown was killed. If found guilty, Brent faces up to 20 years in prison, the maximum sentence.
And probably one of the most famous faces in Ex-NFL crime is O.J. Simpson. Simpson was famously charged in connection with the death of his ex wife Nicole Brown Simpson along with her friend Ron Goldman. After a long infamous trial that made Simpson a media sensation he was acquitted of all charges. Although that would not be the last brush with the authorities for Simpson. He is currently serving time in connection with an armed robbery of his personal sport memorabilia in a Las Vegas detention center.
Most Recommended