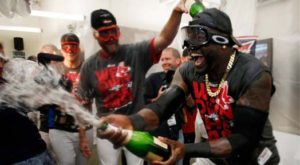 One year after finishing at the bottom of the American League East Division, the Boston Red Sox will have a shot at winning another World Series as they advanced to the American League Championship Series with a 3-1 win over Tampa Bay while the Detroit Tigers forced a deciding game five in their series with an 8-6 win over Oakland.
Boston, winners of the AL East this year, scored twice in the seventh inning and added an insurance run in the ninth to get back to the ALCS for the first time since 2008. Tampa Bay, who has not made it past a division series since 2008, was making its fourth playoff appearance in the past six seasons.
David DeJesus' RBI single gave the Rays the lead in the bottom of the sixth inning. Boston would rally in the top of the seventh, though. A wild pitch by pitcher Joel Peralta would allow Xander Bogaerts to tie the game and then Shane Victorino added an RBI single to allow the Red Sox to take the lead, 2-1. Dustin Pedroia's sacrifice fly drove in Bogaerts in the ninth to set the final.
Boston will face the winner of the Detroit-Oakland series for a right to represent the American League in the World Series. Detroit was forced to use pitcher Max Scherzer, who won 21 games during the regular season, to get them out of an eighth inning jam to get the win over the A's.
Scherzer was slated to pitch game five, which will be played Thursday in Oakland, but entered the game none out in the top of the eighth. Oakland had loaded the bases, but Scherzer was able to escape without yielding a run.
The Tigers scored three times in the bottom of the inning to go ahead 8-4. Detroit scored on a wild pitch and Omar Infante's two-run double. Oakland rallied in the ninth to score twice on Yoenis Cespedes' RBI single, but Tigers' reliever Joaquin Benoit retired Seth Smith by strikeout for the save.
Game 5 is set for Thursday. Justin Verlander will get the start for Detroit. Oakland has yet to name a starter, but Bartolo Colon could go as could rookie Sonny Gray.