Simply The Best, Mayweather Beats Guerrero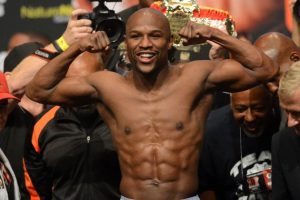 Tina Turner might not have been singing about Floyd Mayweather Jr., but the 36-year-old proved that he is still, pound-for-pound, the best fighter in the world. Mayweather retained his world welterweight title with a demolition of challenger Robert Guerrero Saturday night before a packed crowd of 15,880 at the MGM Grand Garden Arena in Las Vegas.
The fight was the first for Mayweather under a new 30-month contract that he signed with Showtime/CBS. Under the new deal, Mayweather could fight up to six times and earn an amazing $200 million-plus. He will fight again this September, also at the MGM Grand Garden Arena, against an opponent to be determined.
Determined was what Mayweather was as he basically took care of Guerrero single-handedly. Mayweather returned to his father, Floyd Mayweather Sr., who helped bring Mayweather Jr. back to his defensive-minded roots. Guerrero, physically bigger and younger than his opponent, tried to utilize his strength to his advantage. Money May would have none of it and hit Guerrero with a solid right in the fourth round that may have been the difference maker in the fight.
It was Mayweather's first fight since September of 2011. Mayweather spent time some of the time in the interim in jail as a result of a domestic abuse charge. Mayweather is now 44-0 with 26 Kos in his career. He landed 195 of 476 punches (41 percent) compared to the 19 percent (113 of 581) by Guerrero.
Speculation has it that Mayweather's next opponent will be Canelo Alvarez, the unified junior middleweight champion and a huge star in Mexico. The fight date is set for September 14 which happens to fall on Mexican Independence Day. An Alvarez-Mayweather fight on that date would be a super-mega-fight, one that fans would be dying to see.
Most Recommended