The 2012 Summer Olympics – Men's Gymnastics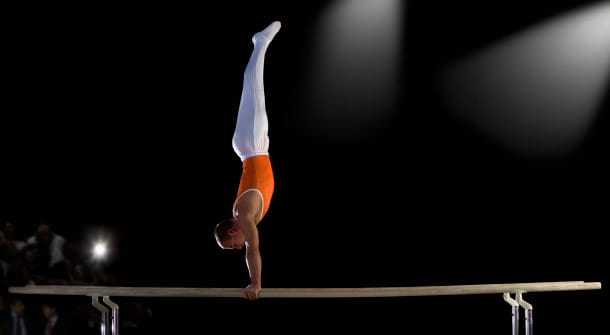 For the 2012 Summer Olympics the Men's gymnastics competition is a very underrated part of the Games, but shows unbelievable feats of strength, agility, speed and absolutely crazy maneuvers. From the pommel horse to the vault, from the floor exercises to the parallel bars; the Men's gymnastics competitions are an exciting look into the varying ways the body can be moved and worked in a way that very few truly can move.
There will be 138 men's competitors vying for the gold in the three Men's gymnastics categories: artistic, rhythmic and trampoline. Each category has sub-categories such as team all-around, individual all-around, floor, vault, rings, pommel horse, etc. The way that the points value is determined is the through the initial difficulty of each routine, giving a highest point value for the routine. If they perform perfectly they would get the full point value, however if they make mistakes that point value would go down for each mistake they made. The initial difficulty often determines who has a better chance of winning due to the fact that the higher initial difficulty point value the more likely the competitor is to retain the highest value of all routines in that sub-category.
This year the Men's gymnastics at the 2012 Summer Olympics, the USA and Russian teams are in a headlock to see who can win the gold medal in each category. Like in previous years, Russia and the United States have some truly exceptional competitors such as John Orozco (USA) and David Belyavskiy (RUS). The competition is going to be close and it is a tossup who will come out on top.
The Men's gymnastics at the 2012 Summer Olympic Games are began on July 28th and go on and off until August 12th. The artistic gymnastics events will be held July 28th through August 6th at the North Greenwich Arena, the rhythmic gymnastics events will be held from August 9th through the 12th in the Wembley Arena and the trampoline gymnastics events will be held August 3rd and 4th at Greenwich Arena. For those competing in the Men's gymnastics categories at the 2012 Summer Olympic Games, this is a chance of a lifetime and is set to be yet another ferocious battle for the gold in London. This underrated Olympic category is one that shouldn't be missed and will be very entertaining whether from the crowd or from the comfort of your own home.
Most Recommended