The Bizarre Case of Todd Hoffner Former Football Coach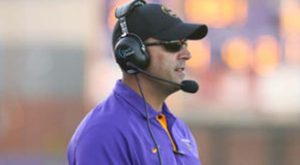 Todd Hoffner was looking forward to his fifth season as the head football coach at Minnesota State-Mankato last August. He had gone 34-13 in his four years at the NCAA Division II school and was building the program toward national prominence. That came to an end in bizarre fashion as Hoffner was escorted off of a practice field after allegations of connections to child pornography.
In August of 2012 Hoffner had taken his university-issued cell phone to the school's information technology department because the phone was not working. During the process of repairing the phone, a worker found videos of children, unclothed and partially clothed. Immediately, the finding was reported to university officials.
The Blue Earth County Sheriff's Department was granted a search warrant and went through Hoffner's home and office seizing all computers, discs, and any electronic equipment. Hoffner was immediately placed on administrative leave and Aaron Keen, offensive coordinator, became the school's interim head football coach.
Hoffner was charged with one count of possession of child pornography and one count of using minors in a sexual performance or pornographic work. Hoffner's wife, Melodee, called the charges "ridiculous and baseless." And she was right.
In November of 2012, Hoffner was cleared of all charges. The videos taken were of his children, all under the age of nine. The videos were harmless, family fun. No other signs of child pornography were found in any of Hoffner's possessions.
Minnesota State-Mankato then reassigned Hoffner to a position in the athletic department, assistant athletic director for facilities development. He was also suspended for 20 days for an unspecified reason. Hoffner tried to fight the suspension and the assignment to no avail.
Now, almost a year later, Hoffner is now without a job. Hoffner's last official day working at the university was last Tuesday. The school will not affirm that he was fired rather saying he was removed from the payroll. The faculty union representing Hoffner says the former coach was fired and the union has filed a grievance over the termination. Sadly, the battle between an innocent coach and the university will likely continue.
Most Recommended