The Final Four is Set – Michigan, Louisville Heading to Atlanta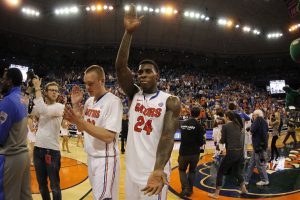 Michigan went on a 13-0 run to start the game, built a double-digit lead and never looked back to defeat Florida, 79-59, to earn it's seventh trip to the Final Four in school history and Louisville overcame a gruesome injury to Kevin Ware and destroyed Duke, 85-63, to advance to Atlanta.
Freshman guard Nik Stauskas hit all six of his three-point attempts and scored a game-high 22 points for Michigan. The Wolverines, who will face Syracuse in the national semifinals, hit 10 of 19 three-point attempts (53 percent) and never trailed in the game. All-everything point guard Trey Burke, the Big Ten Player of the Year, added 15 points, eight rebounds, and seven assists for Michigan, who make their first Final Four appearance since 1993. Freshman Mitch McGary, who has had a superb tournament added 11 points, eight coming in the game-opening 13-0 run.
Florida, champions of the SEC, mustered only 2-of-10 three-pointers and was never in the game. Billy Donovan's squad was led by Kenny Boynton and forward Will Yeguette who each scored 13 points. The Gators, who have appeared in each of the last three seasons, end the season at 29-8.
Louisville led by just three at the half, 35-32, and was overcome with emotion when reserve guard Kevin Ware went down with a leg injury with 6:33 remaining until halftime. Duke's Tyler Thornton hit a three-pointer to pull the Blue Devils within a point at 21-20. During the shot attempt, Ware contested the shot and then landed awkwardly. Several Cardinal teammates were immediately overcome with grief and it was later learned that Ware had suffered a compound fracture of his right leg.
The Cardinals regrouped in the second half and their leading scorer, Russ Smith, scored 23 points, Peyton Siva added 16 and center Gorgui Dieng added 14 to go with 14 rebounds. Louisville shot 53 percent from the floor and absolutely demolished Duke in the second half.
Cardinals' coach Rick Pitino leads his team to the Final Four for the second consecutive year. It is the seventh Final Four for Pitino and he, like counterpart Jim Boeheim of Syracuse, have led teams the Final Four in four separate decades.
Most Recommended