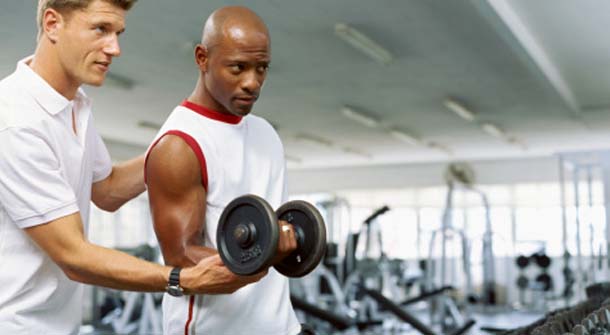 You know the old saying, "It takes a village to raise a child." That also holds true when it comes to bodybuilding (or most workouts, really). People may think it is an individual sport, and on the surface it is. You are the one suffering through countless hours of cardio. You are the one hungry even after you've just eaten. You're the one training as hard as you can each and every day. And you are the one that ultimately gets on stage (or on the beach, or by the pool, or on the field or court) in a really tiny "posing suit" (or board shorts or a uniform) for people to judge you. (Man, why do I do this again? lol) However, no matter what your end-goal may be, working at an elite physical level takes a tremendous support network around you.
First and foremost, you have to have a VERY understanding significant other. Again, you are doing most of the so-called "work," but everyone around you will "feel it" one way or another. And, the person who will "feel it" most will be your significant other. If you don't have total cooperation and support from him or her, you will be doomed before you start. Believe me! Can he or she deal with not going to dinner on the weekends? Can he or she handle going out and coming home well before 2am? Will it bother him or her when the two of you aren't eating the same things night after night? A lot of these issues can be mitigated with a little understanding and a lot of planning. But if your relationship is rocky to begin with, it can certainly have an adverse effect in the long run. Ultimately, you will have to decide what's best for you.
Now, that doesn't mean that you can't also have a life! I have two kids, a close family, a girlfriend…oh, and a "real" job too! Obviously time doesn't stand still for those who can't make bodybuilding their career. So, you need to walk the tightrope of life to ensure balance (or at least as much of it as you can). The same applies to a rigorous diet, exercise training, or competitive sports.
In addition, if you are a single dad like me, the issues can be compounded. There is where your support network comes in. I've got my mom, my uncle, and my sister willing and able to help practically whenever I need. I can't tell you how many times someone in my family has saved my butt handling something at home while I took care of training and/or cardio. Not to mention, someone has to help paint you with that god-awful tanning stuff the days before your show (thanks, sis!). 🙂
And, finally, my friend and coach – Eric Broser. I promise, without his help with my diet, cardio, and my mental state as I get closer to the show, I don't know where I'd be in pursuit of my Pro Card goal. Actually, I do know. I would NOT BE in pursuit of that goal. His knowledge (and patience) are second to none!
Can entering a bodybuilding contest be realistic if you don't have a terrific support staff? Can you expect phenomenal results from your diet, workout or training regime if you're doing it all on your own? Sure, I guess. If you are young enough and don't have any adult responsibilities or a significant other, it's way easier. However, unless that is the case, you will always need some kind of support from the people you care about around you. This will be my 5th show in 3 years. I KNOW I wouldn't have been able to do it without my support staff. They are my backbone! Do your best to find yours!