The Original Final Four That Started It All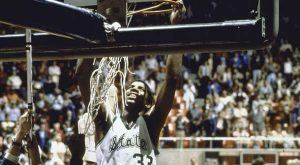 With the 1979 Final Four, the modern era of college basketball began. It was the first tournament where teams were seeded. At the time, just 40 teams were selected to play for the championship and in 1979, the teams were organized into four regions of 10 teams apiece. Teams were seeded 1 through 10 with the top six receiving a first-round bye.
Two of the nation's top players, Earvin "Magic" Johnson of Michigan State and Indiana State's Larry Bird, would begin a rivalry that would last over a decade. The '79 tournament would provide drama as well as the Ivy League's Penn would upset the East Region's top seed, North Carolina, in the first round and go on to defeat two more higher-seeded opponents to reach the Final Four. The Quakers' feat has been bettered by LSU in 1986, George Mason in 2006, and 2011 by Virginia Commonwealth.
St. John's would upset No. 2-seeded Duke and DePaul would knock off No. 1 seed UCLA in the West Regional final to advance to the Final Four. Coach Jud Heathcote's Michigan State squad, featuring the flamboyant 6-foot-8-inch guard Johnson, would receive the second seed in the Mideast Region and would wind up beating Digger Phelps' No. 1-seeded Notre Dame team in the regional final.
Indiana State, the top seed in the Midwest, had been a winner at various levels throughout the school's existence. The Sycamores are the only school that had been a national runner-up in the NAIA (1946 and 1948) and NCAA Division II (1968) and would go on to become a runner-up at the NCAA Division I level. ISU featured the 6-foot-9 Bird, one of the country's top scorers, and entered the Final Four unbeaten on the season.
The Spartans would draw underdog Penn in the semifinal and go on to rout the Quakers, 101-67 while Indiana State survived a Ray Meyer-coached DePaul team, 76-74. The final was the last Final Four game to be played on a college campus at the Special Events Center on the campus of the University of Utah. Given the more recent usage of larger stadiums during the NCAA tournament, it is unlikely that another Final Four will ever be held on a college campus again.
In the final game, the No. 1-ranked Sycamores could not overcome the play of Johnson and forward Greg Kelser and fell to the Spartans, 75-64, in a game that was not as close as the score indicated. Johnson would go on to be the tournament's most outstanding player. After averaging 17.1 points, 7.6 rebounds, and 7.9 assists per game for MSU, Johnson would go on to be taken in the first round of the 1979 NBA draft along with his teammate, Kelser, and ISU's Bird.
Most Recommended