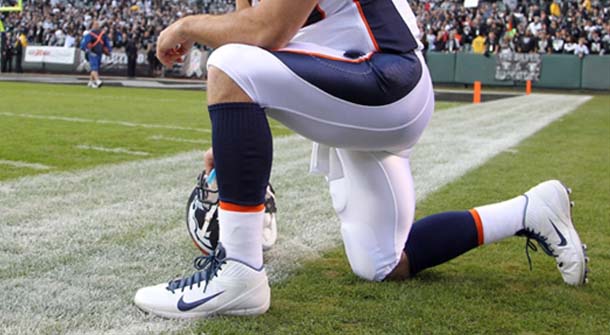 Whether or not you are a huge Tim Tebow fan it's time to see if he can be a starting quarterback in the NFL and lead a team to championships. He has been told he can't play quarterback at every level. Coaches have wanted to move him to other positions. He looks like a fullback or a linebacker so it seems to make sense. Once coaches decide to give him the ball though, and say, "This is your team," he leads them to victory and something special happens. His faith, his belief, is stronger than than can be explained.
Tim Tebow going to the Pro's, do you think he can cut it?
To compare another athlete with the instincts and knowing how to bring home the victory would be Tiger Woods when in his prime. He just knew things were going to go well especially when the heat was on. Tim believes that if you stay positive and work hard good things will happen. His belief is so strong it is infectious to the rest of his teammates. His leadership qualities are off the charts and as Tim says leadership and decision making are the most important traits to play quarterback in the NFL. He believes in himself, he believes in his teammates, he believes in his coaches. His teammates believe in him and they have all grown extremely close.
Can Tim Tebow Command a NFL Locker Room?
Everyone said Tim couldn't affect the locker room in the NFL. It isn't high school or college. These athletes are professionals and grown men. Interestingly enough he has been able to inspire his teammates to believe in themselves and that if they keep fighting something magical will happen. The book called, The Magic of Believing by Claude M Bristol published in 1948 makes a very inspiring and relevant point. Tebow lives the principles in that book to a tee.
Have you gotten on the bandwagon?
Or are you the smart guy that says his mechanics are flawed; he has poor footwork and a long wind up? We don't have a crystal ball. We don't know Tebow's long-term future and whether he will be able to lead a team to a Super Bowl or win a league MVP. The polarizing nature of Tim is why we love sports! Let's enjoy what we are watching. Let's enjoy a team that believes they can win. It is a total team effort. Brian Dawkins, safety on the Broncos and devout Christian tweeted after the Minnesota game, "T.E.A.M Together Everyone Achieves More." Tim retweeted it and it just goes to show the power of team in all walks of life.
Trent Dilfer was on with Colin Cowherd earlier this week and I thought he articulated what our focus should be on with Tim. He said the media and fans are the ones saying Tim is the reason for all of Denver's success. The irony is that everyone but Tim is making it about him. He says his teammates make him better than he is. He thanks the Bronco organization for giving him the opportunity to play in the NFL. He deflects the praise to his teammates and coaches. That humility is powerful.
To finish up this though let's close with Trent's last assessment with Tebow. What better role model in sports would you want your son or daughter looking up to? When my son and daughter start to play team sports, he will be the example I want them to emulate. In an era of me, me, me, look at me, Tebow is a refreshing icon in sports. So enjoy what we are witnessing because we don't know how long it will last. The NFL is a tough league and there are no guarantees.