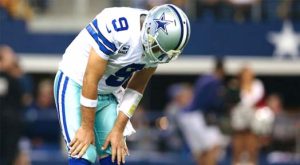 Dallas Cowboys QB Tony Romo will miss Sunday's regular season finale and any playoffs should America's team defeat the Philadelphia Eagles. Romo underwent surgery on his back on Friday and was placed on injured reserve, which put an official end to his season.
Romo had been hurt in last week's 24-23 win over Washington, which put Dallas in position to win the NFC East title and earn a berth in the postseason. With Romo out, Kyle Orton will start for Dallas on Sunday. The Cowboys host the Eagles with the winner taking the division title and a playoff berth. The season ends for the loser.
It was the right move for Romo and for Dallas. The QB was suffering from serious discomfort and any treatment he had been receiving was marginal at best. It would have a been a huge risk, and career threatening, if Romo would have attempted to play Sunday.
Doctors, nor representatives from the Cowboys, would comment on what type of surgery was performed, but sources claim that it was to repair a herniated disk. With the surgery complete, Romo can begin the road to recovery and should be ready to go when the team starts its OTAs (Organized Team Activities) next spring.
Romo ends the season having led Dallas to an 8-7 record while throwing for 3,828 yards and 31 touchdowns. This was Romo's 11th year in the league, all of them with the Cowboys.
Orton, who has attempted just five passes all season, takes over and will try to lead Dallas to victory against the visiting Eagles. The Cowboys are 5-2 at home this season and have not lost a division game. They will need DeMarco Murray (1,073 yards rushing) and the running game to have a big day to take some of the pressure off of Orton.
The Eagles jumped to seven point favorites with the announcement of Romo's surgery. The former Eastern Illinois QB is not the only Dallas QB to undergo back surgery. Troy Aikman had surgery for a herniated disk in 1993. The next season he led the Cowboys to a victory over Buffalo in Super Bowl XXVIII.