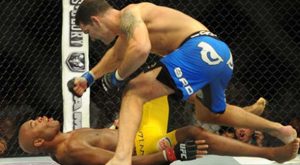 After continually taunting challenger Chris Weidman, longtime middleweight champion Anderson Silva taunted one time too many. Weidman caught Silva with a left hook that put the champ on the canvas and then Weidman jumped on the downed champion and finished him off in the second round of the UFC 162 main event.
As Weidman pummeled Silva, referee Herb Dean stepped in at the 1:18 of the second round and stopped the fight. It was the first UFC loss for Silva, who has been the middleweight champion for over three years. Silva had defended his title a UFC-record 10 times.
Weidman is now 10-0 in UFC competition and had no doubt entering Saturday's fight that he would win. "I felt I was destined for this," Weidman said. "I imagined doing this many times in my head, but it's surreal."
The new champion was obviously disturbed by Silva's taunting antics. While Weidman said he did have a certain amount of respect for the former champion, he did say that Silva's clowning around did bother him.
Weidman appeared to catch Silva with a left to which Silva replied by mocking that he was hurt. As he staggered, Weidman charged in and caught him with the punch that put him down.
Silva, 38, is under contract with UFC for 10 more fights and he intends on sticking to his obligation. He will not, however, seek a rematch with Weidman. Silva has said he will not seek to regain the title again. He is now 33-5 as a pro.
In other action at UFC 162, Frankie Edgar won a unanimous decision over Charles Oliveira in the lightweight division. Former Strikeforce middleweight Tim Kennedy earned a decision over another former Strikeforce contender, Roger Gracie, as both made their UFC debuts. Mark Munoz, who lost to Weidman last July, got back on track with a decision over Tim Boetsch in a middleweight bout.