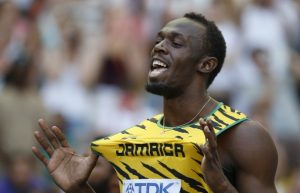 Jamaica's Usain Bolt, the world's fastest man, claimed another World Championship gold medal running a 9.77-second 100-meter dash to defeat American Justin Gatlin, who was second in 9.85 seconds.
With the sport of track and field under scrutiny as of late, Bolt needed to shine and, though the sun didn't, Bolt did. Prior to the start of the World Championships American sprinter Tyson Gay and Bolt's teammate, Jamaican sprinter Asafa Powell, both tested positive for banned substances. They were among six different track and field athletes whose tests were confirmed positive on the same day in July.
Bolt's victory came in a driving rainstorm in Moscow Sunday evening. The world-record holder's 9.77 was the slowest in a major 100-meter final. After Gatlin, another of Bolt's teammates, Nesta Carter, was third in 9.95 seconds. Two more Jamaicans, Kemar Bailey-Cole and Nickel Ashmeade, were fourth and fifth, respectively, both clocking 9.98 seconds.
The reigning Olympic champion admitted that he would have liked to have run faster, but was happy with the win. "My legs were sore after the semi-finals," said Bolt. With the victory, Bolt now has six World Championship gold medals.
With Bolt's sore legs, his world record of 9.58 was not within reach during this race. Bolt got a great start, equaling the start of Gatlin, who actually led at the 50-meter mark. Bolt caught and passed Gatlin at around the 60-meter mark and held on to win by a meter.
Bolt will try and claim another gold medal in the 200 meters, which he will run later this week. He will also compete as part of Jamaica's 4 x 100 meter relay team, which will be favored to win the gold medal.
Only Michael Johnson and Carl Lewis have won more world titles, eight, than Bolt. He can join that elite group with wins in both the 200 and the 400-meter relay this week.