Veto Of Anti-Gay Bill Will Keep Super Bowl In Arizona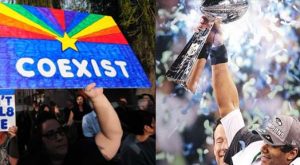 Jan Brewer, Arizona governor, announced that she will veto State Bill 1062, a controversial piece of legislation that would have permitted businesses to discriminate against gays. The National Football League was closely monitoring the situation in Arizona, since Super Bowl XLIX is to be played there next February.
If the bill would have passed into law, it was entirely possible that the NFL would have moved the Super Bowl to another state. The league is very concerned about tolerance as well as discrimination and, more importantly, has moved a Super Bowl in the past. It was moved from the state of Arizona as well.
In 1993, Arizona still did not recognize Martin Luther King Jr.'s birthday as a state holiday. Super Bowl XXVII was originally slated for Sun Devil Stadium in Tempe. The city had been named the host in 1990. At that time, the NFL made it clear that the bill to proclaim a Martin Luther King Jr. holiday would have to pass or the game would be sent to another city.
That is exactly what happened. The league moved the game to the Rose Bowl in Pasadena, Calif., and the city of Tempe and the state of Arizona lost out on the millions in revenue that a Super Bowl brings with it.
Two years later in 1992, the state did pass a bill declaring the MLK holiday. The NFL then awarded Tempe Super Bowl XXX in 1996.
State Bill 1062, which was passed by the Arizona state legislature, would have allowed businesses to refuse service to anyone based on the business owner's religious beliefs. In the wake of recent events around the country, it was believed that the bill would have been used to discriminate gays, lesbians, and the entire LBGT community.
Brewer had until Saturday to sign the bill, veto it, or simply do nothing and allow the bill to become law automatically. Super Bowl XLIX will be played at the University of Phoenix Stadium in Glendale on Feb. 1, 2015. Hosting the game will generate upwards of $500 million for Glendale and surrounding areas.
Most Recommended