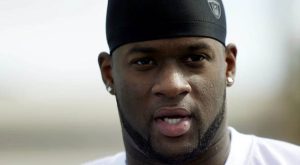 Former Texas All-American and first-round draft choice Vince Young is being forced to repay a $1.7 million debt that he owes to a company called Pro Player Funding. Young took out the loan during the 2011 NFL lockout and later defaulted on the loan.
Police in Harris County, Texas, entered Young's home this Monday in order to take an inventory of his possessions. According to the court documents, Young will be permitted to keep $60,000 worth of his personal items, but everything else can be auctioned off to settle the debt.
Young claimed that Pro Player Funding and Ronnie Peoples, Young's former financial advisor, deceived him into taking out the loan. The court agreed with Pro Player Funding and Young has been fighting the judgment ever since. The company filed in Harris County to collect on its judgment.
The former Texas QB, Young led the Longhorns to the 2006 Rose Bowl and a victory over previously unbeaten USC to claim the National Championship. Young rushed for 200 yards, passed for 267 more and scored the winning touchdown on a nine-yard scramble with just 19 seconds remaining to claim the Rose Bowl MVP. Young became the first player in NCAA history to pass for 3,000 yards and rush for 1,000 in the same season.
The Tennessee Titans drafted Young with the third overall pick in the 2006 NFL Draft. Young entered the Titans' lineup early in his rookie season and would go on to five rather average and disappointing years in Tennessee. He was released by the organization in 2011 and signed by Philadelphia. His career as an Eagle lasted exactly one season. Young was then picked up by Buffalo in May of last year. The Bills released him in August. He has not played for an NFL team since.
No teams have come calling yet this season and, as most teams have begun their pre-season camps, it does not appear that Vince Young will catch on with anyone this season. Injuries during the season might lead to a call, but, at age 30, Vince Young's days in the NFL may be over.