T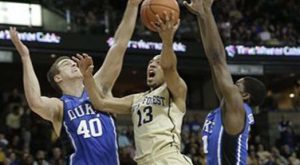 yler Cavanaugh poured in 20 points and Wake Forest (16-14, 6-11) upset fourth-ranked Duke, 82-72. The loss will likely drop the Blue Devils out of contention for a No. 1 seed in the NCAA tournament which begins later this month.
Wake Forest senior Travis McKie added 19 points in his final home game. The effort made up for their loss to Boston College last Saturday. With Duke holding seven-point lead late in the second half, the Demon Deacons went on a 17-0 run to blow the game open. It was Wake Forest's first win over Duke since 2009.
Duke freshman Jabari Parker led the Blue Devils with 19 points and 10 rebounds. His dunk put Duke ahead by seven with just under six minutes to play and it appeared that coach Mike Krzyewski's team was on its way to a 24th victory.
Wake Forest had other ideas and the Blue Devils fell apart. Leading 66-59 after Parker's dunk, Duke missed five three-point attempts and didn't hit a shot for nearly five minutes. During that time span, Cavanaugh, a backup who did not even start the game, and McKie took over. Coron Williams, who finished with 12 points, scored on a layup with 1:08 remaining in the game to put Wake ahead 76-66, capping the 17-point run.
Duke was coming off a break after playing five games in 11 days. They went 4-1 during the stretch, the only loss coming to rival North Carolina. With the layoff, the Blue Devils just were not ready to play.
Coach K's squad was likely a No. 1 seed in the upcoming NCAA tourney, but more than likely will become a No. 2 seed. The same is probably true of league foe Syracuse, which has lost four of its past five games, going from No. 1 in the nation to No. 7. The ACC regular season ends this weekend and the conference tournament will begin next week.