Where Is FGCU and Who Is Andy Enfield?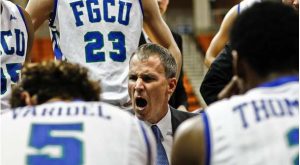 Florida Gulf Coast University has taken the college basketball world by storm with upsets of Georgetown and San Diego State firmly entrenching the school into the hearts of this year's March Madness fans. But, where did FGCU come from and who is Andy Enfield?
In 1991 then-governor of Florida, Lawton Chiles established the Florida Gulf Coast University which, at the time, had no home. A year later, a site was chosen just south of Fort Myers and construction began in 1995. The first classes on campus were held in 1997 and the school had no sports' programs until 2002.
In 2007 the school's athletic programs began the transition to competition at the NCAA Division I level and joined the Atlantic Sun Conference. The transition was complete in 2011 and the men's basketball program, just eleven years old, became eligible for post-season play just last year. In 2011, FGCU hired a Florida State assistant named Andy Enfield to lead their program.
Enfield, from Shippensburg, Pennsylvania, was a Division III All-American at Johns Hopkins University in the early 1990s and still holds the Division III career record for free throw percentage (92.5%). His shooting prowess led to a business producing instructional videos and to consulting jobs with NBA teams. Enfield worked as a consultant with the Boston Celtics and learned as much as he could about coaching from then-coach Rick Pitino.
Enfield got out of the game for a while when he entered into a business partnership that developed TractManager, a company that supplies business technology services to the health care industry. Enfield is no longer involved in the day-to-day activities of the company but still owns a small portion of it, which was believed to be worth in excess of $100 million.
But, basketball was where Enfield's heart was and he got back into the game as an assistant at Florida State serving head coach Leonard Hamilton from 2006 until 2011. He became just the second head coach in the history of FGCU and promptly took his team to the Atlantic Sun Conference tournament final in his first season. The Eagles lost to Belmont and finished 15-17, but the table was set for great things to come. FGCU is now 26-10 and will play No. 3 seed Florida in the Sweet Sixteen. In knocking off Georgetown and San Diego State last weekend, Enfield and FGCU become the first No. 15 seed to advance to the round of 16.
And if Enfield's basketball success isn't enough, he also happened to marry a model. Yes, Mrs. Cinderella is the former Amanda Marcum, a runway model in Europe who had appeared on the cover of magazines like Maxim and Vogue. Enfield not only has a date in the Sweet Sixteen, he also is a proud husband and father of three children. Things are definitely looking up for Enfield and for Florida Gulf Coast University.
Most Recommended