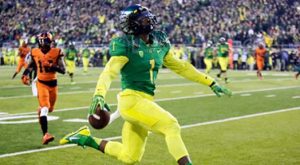 Thanksgiving weekend brings family and friends together for fun, food, and some of the nation's best football as many of the great college football rivalry games take place. Here's a look at some of the best.
The Civil War
Formerly known as the Oregon Classic and the State Championship Game, each year Oregon and Oregon State meet in the state's Civil War. This year's game took place on Thanksgiving Friday and Ducks QB Marcus Mariota drove Oregon 83 yards to score with 35 seconds remaining and give the Ducks a thrilling 36-35 victory over the Beavers. The game was first played in 1894 and has been played 117 times, the seventh most played college football rivalry in the nation.
The Game
Beginning in 1897, The Game pits neighbors Michigan and Ohio State in a year ending clash. The two teams meet Saturday and the Buckeyes, who have already qualified for the Big Ten title game, is ranked No. 3 and wants nothing more than to beat the Wolverines. Michigan owns the series lead, 58-44-6, but Ohio State has won eight of the last nine. The rivalry is so intense that Ohio governor John Kasich issued the Scarlet Letter Proclamation this week urging Ohioans to eliminate usage of the the letter "M" this week. Ohio State has not lost a Big Ten game in two years and still has a shot at playing for a national championship.
The Iron Bowl
This rivalry has been very significant in recent years since the last four national champions won this game. In the state of Alabama, you either "Roll Tide" or "War Eagle." This year's game will affect the national championship as well. The Tide comes into the game ranked first in the country and the Tigers are fourth. The winner will represent the West Division in the SEC championship game. This game was cancelled for 40 years at one point in history because no one could agree on the rules. Alabama has won the past two games by a combined score of 91-14 and with a win, could be on its way to a third consecutive national championship.
There are several more big rivalries include in-state clashes like Florida-Florida State, Arizona-Arizona State, and UCLA-USC. The state of South Carolina features another in Clemson-South Carolina, while Georgia has the Bulldogs versus Georgia Tech. It is a weekend full of fabulous rivalry football games. Enjoy!