Best Kinky Sex Ideas For Beginners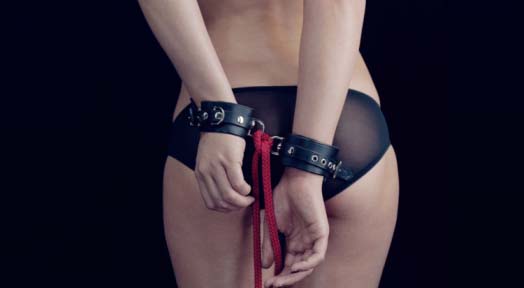 Spicing things up in the bedroom can be frightening. You don't know what she wants and she doesn't know what you might like. There is bondage, role playing, whips and chains, and even swings you can add to your sex life to change things up. But if this is your first time trying kinky sex out you probably need more than props. In order to help you navigate through the sometimes terrifying world of kinky sex we have listed 5 tips to help you make kinky sex your bitch (hope that word is ok).
Tips to try out some kinky sex
1. Start things out slowly.
The first step to kinky sex is role playing. Have her call you sir/professor/ or Doctor and demand that if she calls you anything else she gets a spanking. The same can go for you if you like that sort of thing. The trick is to do it naturally and not to worry about laughing at yourselves during the act. Get comfortable with one another and don't be afraid to look stupid. Its sex, everyone looks ridiculous doing it. Just pretend that you are an actor living out a role and go with it. You can add handcuffs and whips for even more dramatic punishments as you grow closer as a couple. The goal is to spice things up in a playful erotic way.
2. Consider a threesome.
Think threesomes are only your idea as the dude? Think again. A large percentage of women have been involved or have at least thought about being in a threesome. That means chances are the girl you are with right now is all about a threesome. How can you get things going? Well, if you are in a long-term relationship the two of you need to talk through the idea completely including jealousy and any emotional issues that may come up. Once you've decided to go for it use an online dating site or even go to the local club and take someone home from there.
3. Tie her up and pleasure her.
Use one of your ties to tie her hands behind her back or over her head. Blind fold her and use your tongue to explore her entire body. She will love the sensation of losing control and you will love doing everything you've always wanted to do to her.
4. Incorporate some sex toys.
Most women already own vibrators but how many men have tasty massage oils handy to get her lubed up. Purchase a few sex toys that are aimed at pleasuring her completely and take them out during the act. It would be rare for her to oppose you bringing out a toy so don't hesitate to do so.
5. Watch each other go at it.
Masturbation is extremely sensual. It lets each of you know what feels the best and how to get each other going. The act of simply watching your girl pleasure herself can be a massive turn on that pushes you to the edge. Being open and honest about your sexual desires will get both of you going and can make for the best sex of your life.
Most Recommended