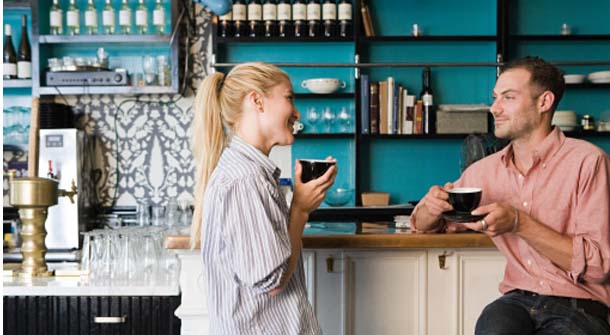 Often, what stands between men and women hitting it off are just a few simple words. Breaking the ice with a few Conversation Starters has always been, and continues to be, one of the most challenging aspects of the dating world. But it doesn't have to be if you learn to be an interesting conversationalist. Easier said than done, right?
Follow these few simple tips for some easy conversation starters
Starting a conversation
It should be natural, not a cliché. Avoid pick-up lines, jokes, or complaints.
Seek to include the person; not to entertain them. This takes the pressure off of both parties to "perform" and allows conversation to flow with less effort.
Ask a question or make a comment on a topic that might actually interest both of you. Her looks, your car, what you're drinking – those are very one-sided topics. The weather, the crowd, kind of boring. Think outside the box. Asking about the last great restaurant she went to, whether she's a dog person or a cat person, whether or not she has a favorite vacation spot… these are not only interesting conversations; they also show that you're interested in actually getting to know the person.
Always, always, always run your words through a sensitivity filter. If it has even a slight chance of being perceived as offensive, don't say it.
Don't get discouraged. Not everyone is receptive to genuine conversation right off the bat. When that happens, chalk it up to their loss and move on.